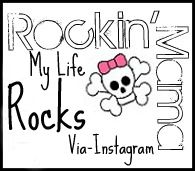 Ok so I love this chick and to show it I'm going to link up with her today.
I don't have instagram anymore thanks to having blackberry for the moment. But I have loads of picture I wanna share from when I did have it.
P.s.
I will be getting a new phone soon and getting my instagram back I hope, as soon as the money Gods start loving me a little more.
1. She gets it from her momma.
2. My passion. I love making these bracelets.
3. He is a napper.
4. BEST energy drink ever! keeps me going!