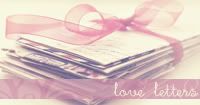 You put a ring on my finger and I knew my life was complete. 09-01-09 was the best day of my life. You made me, as clique as it sounds, the happiest girl alive.
The army took you away for a very long year of my life. I missed you with all my heart.
But in the time you were gone, I gave birth to our little blessing. A daddy's girl from the beginning. She is a living, breathing proof of our love. She loves you more than anyone.
Our family might be young, but that just shows that we have some many years of happiest together. Forever and always, to death and back. I love you Scotty D. Fleming more than the stars and heavens.
XOXO
Your Love, Baby Girl.