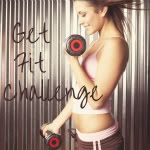 Your fitness challenge(s) for the week:
Workout with the Kinect once a day. Ab work outs every other day.
Your food challenge for the week:
Less sweets. 32 oz of water a day or more. No soda, only on Sunday.
How well did it go:
This week sucked. I didn't do good at all.
Failures and slip-ups:
I didn't do my exercises. I had way too much sodas. I trick myself into sodas by telling myself I'm tired. And I was "tired" all week.
Advice to fellow GET FIT members
: Just do it. Don't talk yourself out of it.
Picture of myself coming next week.