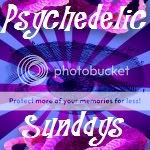 I'm joining the blog hop Psychedelic Sunday hosted by Stash Mama.
Is it wrong to wanna spend time with your husband with no one else around. I'm sorry if that's selfish, he seems to think it is. I just love him so much. After a year of him not being around due to a deployment, I like having him around. I like spending time with him and just him.
I love our daughter but I don;t always want her around. I know most moms would agree with me. Kids are great and all, but sometimes you need mommy and daddy time. I seems to only get that between him working, doing his school work, me cleaning and taking care of Skylee. Then he has friends and family. I'm starting to feel I'm coming in last. I know his got a life outside of me. And it was my choice to be a stay at home mom and devote my life to him and our family.
But I miss our "us" time. Things are just so busy, while for him anyways. It's hard to find time.
I don't know. Just feeling a little bummed right now.
XOXO
Nikki Darlin'