Shutterfly
has did it again. They have a great product to help you be creative with keeping your memories.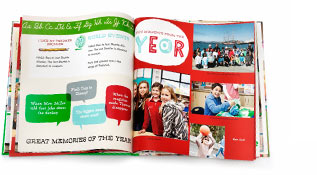 The Shutter Yearbook is a easy to make and a fun way to to just flip through your
yearbook pictures
.
We all a yearbook somewhere laying around. We have those moments , when we have a little too much wine, and we start reliving our high school years through pictures.
Well why not do that now, but with pictures of people you like and still talk too.
Don't look down on me. You know you hated just about everyone in high school and those friends of yours, where are they now?
Well Shutterfly is going to help you make a Yearbook for the better, less awkward years.
Schools are welcome to use Shutterfly Yearbook also. It's "easy on your pockets" for as low as $5 a book.
I would make some for gifts. I know it's a little early to be thinking Christmas gifts. But while your taking pictures all year long by that time you will have enough to fill a book and have a great gift for everyone in the family.
Great for classes, baby memories, growing toddlers ( like my own.), and growing relationships.
Let all just hope you don't add a yearbook picture like this :
Sorry Lil Jon. LOL!
Don't forget to follow Shutterfly on:
and