Welcome to More Bloggy Love Monday!
Hosted by me and co hosted by A Lil Dash of Diva
This is where we will show love to our favorite Blogger.
Rules are simple :
Choose a blog that you love
(each week you will choose a different blog)
Grab the button above and add it to a post
about the blog you have chosen.
then come back here and link up!
Then :
you can visit some on the blogs people have chosen
and show them love!
Hopefully everyone will get some love
and some new followers.
This week I have chosen :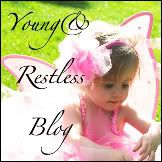 Christa is a super funny blogger.
I love watching her vlogs.
She sings and dances with no fear!
But she is pretty good at it.
Her daughter is a ball of cutest on two legs.
And if you haven't seen this chicks photography, you should.
She inspires me to be more carefree on my blog/vlog.
Check her Out!