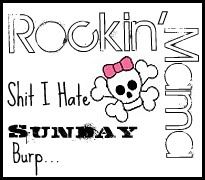 Shit I hate :
feeling like I don't have enough time to do crap.
not having a car, we have a truck and it sucks when you have other people ride with you.
not having any money.
Having to wait two weeks for a pay check. Really? I got shit to buy.
having my head hurt like all the time.
the hubs and his football.
not having anything to watch on TV.
Thanks to an awesome hooker for this link -up. Go Now Link Up!