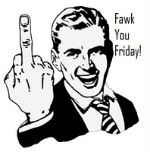 I really don't know who to Fawk right now other than myself. I have been such a bad blogger lately. I changed my theme thinking it would hit me with new inspiration, but nothing. I have been so worn out with everything I'm trying to do lately. I have so much on my plate from, writing for Examiner.com, trying to write for Yahoo and getting put down, working on my book ( I'm working on the cover art now and no I still haven't finished the ending), and to building my web site
Nikki Darlin'
.
Freelance writing isn't easy by no means.
So I would also like to say Fawk You to the freelance writing world. I love being a part of you, but the money is sucking ass. Being turned down after pouring your heart into something suks ass.
I'm trying my loves. I still read your blogs. I still try to comment. I'm just a little worn out right now. I don't know how to balance my life at this moment, but I'm trying.
Hope you all still love me.