I'm linking up with

Janette

,

Mamarazzi

,

Shawn

, & Impulsive Addict for We Want To Know Wednesday.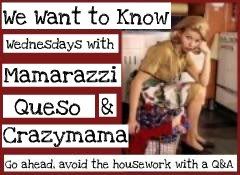 1. What was the last thing you searched for online?
The last thing was yesterday when I searched about dog lotion. My puppy has dry skin.
2. If we visit your home state, what is one MUST we should do before leaving?
Have a Vortex burger. They are awesome and the best ever ever ever. Gosh I want one now.
3. What do you think pharmaceutical companies should invent a pill for that isn't on the market yet?
A pill to make people or yourself disappear. Some times you just need to be left alone.
4. When was your first kiss? Was it good or bad?
I think I was 10 maybe. It kinda sucked.
5. What is your guilty pleasure tv show that you can not miss?
Oh Lord there's so many. Right now its True Blood. I love my some vampires and witches and werewolves.