I'm linking up with

Janette

,

Mamarazzi

,

Shawn

, & Impulsive Addict for We Want To Know Wednesday.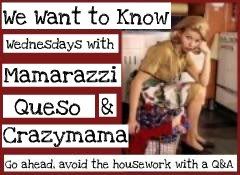 What is the best or worst pick up line you have ever been given?
I have no idea. I wasn't much for the dating scene. I met my hubby at 18. So I didn't do much dating around to even get pick up lines.
What is your most and least favorite day of the week?
Well my days kinda blend together. I do the same thing everyday no matter what day it is. But I guess I'll go with good ol' Monday. It's the day the hubs has to go back to work and I miss him a lot.
How many hours of sleep do you require each night?
I love sleeping. I am also blessed to have a baby who loves sleeping too. I go to bed about 12am and wake up about 9am. Yep be jealous, the hubs is. He hates how much I sleep.
Is there a song that takes you back in time? What song is it and what memory is it attached to?
I have a mixed CD my and a friend of mine made back when I was 16. It even has Sponge Bob songs on it. I love that CD and it reminds me of all the sleepovers we used to have.
What is your biggest guilty pleasure?
Oh Lord anything sweet and my butt shows it. I eat a lot of sweets. I don't just have one sweet tooth I have many. Maybe even a full mouth of them. Just last night I was asking the hubs to go get me some donuts. LMAO!