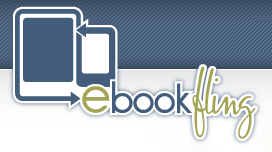 I was just setting on the couch checking my emails and facebook and watching Doctors. They had a show today about how to save money and get stuff for free. Right up my alley! They started talking about this website called
EbookFling.com
.
I love reading books on my kindle app on my phone. It's the best, I'm kinda addictive to it. So I had to check out this site that promised free ebooks. So I hoped on the computer and clicked over to this new website that the TV told me about.
On
EbookFling.com
you can borrow ebooks for other people. You get to make a account and post what ebooks you have to lend out to other people and they do they same. You can borrows and search through loads of titles. They offer ebooks for kindle and nook.
I saw this site and thought wow, I don't have to pay ten dollars for a ebook I can just borrow it, awesome!
You can also buy or be gifted credits that help you buy books that you wanna keep.
I just found this site and I'm excited to use it. Once I "borrow" a ebook I'll let you all know how it works out for me.
Sign up for yourself and let me know how it went for you!
I was not paid in anyway for this review. I just thought the site seemed cool.