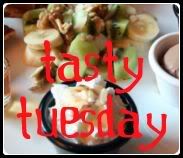 Country Breakfast Pot Pie
Picture via Pilsbury.com. My phone some how doesn't have the picture I took anymore.
INGREDIENTS
3
tablespoons vegetable oil
1
bag (20 oz) refrigerated shredded hash browns
1
cup shredded Swiss
cheese
(4 oz)
1
tablespoon chopped fresh chives
1/4
teaspoon freshly ground pepper
1 1/2
cups cubed cooked ham (8 oz)
1
package (3 oz)
cream
cheese, cut into small cubes
1
can (12 oz)
Pillsbury®
Big & Buttery refrigerated crescent dinner rolls
DIRECTIONS
1

Heat oven to 375°F. Spray 11x7-inch (2-quart) glass baking dish with cooking spray. In 12-inch nonstick skillet, heat 2 tablespoons of the oil over medium-high heat. Spread potatoes in skillet; cook until golden brown on bottom.

2

Drizzle potatoes with 1 tablespoon oil. Cut into quarters; turn sections over. Cook until golden brown. Remove hash browns from skillet; arrange in bottom and around side of casserole. Sprinkle Swiss cheese over potatoes.

3

In bowl, beat eggs. Stir in chives, salt, pepper and ham. Pour into same skillet. Cook and stir over medium heat until partially cooked. Stir in cream cheese; cook and stir until eggs are cooked but moist. Spread over Swiss cheese.

4

Separate dough into triangles. Starting at short side of each triangle, roll up halfway. Arrange over hot egg mixture with tips toward center; do not overlap.

5

Bake 20 to 25 minutes or until crust is golden brown.