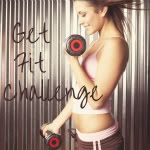 I think this is such a great idea. If you haven't looked at it yet please do. I don't wanna lose weight and be skinny. I wanna be healthy and tone.
Goal:
Tone my tummy, legs, and butt.
Eat healthier.
Work out routine: ( all workouts coming from videos on my on demand menu LOL )
Pilates Abs every other day.
Walk and Tone every other day in between
( I'm starting off small for fear of getting over whelmed )
Eating Habits:
No soda ( SUPER HARD FOR ME )
Drink more water.
Cheat Day:
Sunday will be my cheat day.