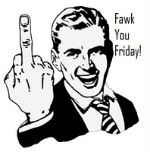 Here we go!!!
Fawk you credit cards and needing to be paid off.
Fawk you rent week and taking the little bit of money we have. You suck!!!!!!!
Fawk you dirty house. I don't want to clean you. I want to play facebook games and blog.
Fawk you the fat in my tummy. Go away. I don't wanna workout, I just want you to go away.