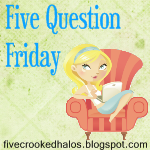 1. Do you open presents on Christmas Eve or Christmas Day?
We open presents from my mom on Christmas eve. Then on Christmas we open presents at home and from my hubby's family.
2. What is your favorite Christmas cookie (or candy)?
Candy/cookie idk. But I do love the big tins with the pop corn in them.
3. What's the worst Christmas gift you've ever received?
Last year the hubby's parents gave "us" a UGA Snuggy. It was really for the hubby not me.
4. Christmas song that you love?
I'm not too much into Christmas music. I think it's because my mom killed me with it.
5. How many trees do you put up?
One. One is enough.