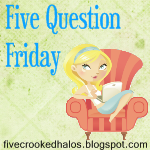 1. If you could have any talent and turn it into an occupation, what would it be?
I think I would want to be a better writer and make that an occupation. I would love to one day publish a book. And not through one of those you paid to publish your book sites. I want a publishing company to come to me and be all " OMG Here's a check, writer us a book and you'll get another check." That would be the life!
2. Would you rather have a house at the beach or a cabin in the woods?
Hmm... both have their pros and cons. The Beach would be awesome until a hurricane came through. And the cabin in the woods would be awesome until I saw all the bugs and snakes and other things I never wanna deal with. So I choose a house on the beach. I'll just have to get some home owners insurance.
3. Is there any meaning or reasoning for the names you chose for your child/children?
My daughter's name is Skylee Danyell, I picked Skylee from a Blink-182 song. It's on one of their live albums. I love the band and the name sounds kind of hippish so I loved it. My husband picked Danyell after a friend of his who passed away when he was younger.
4. What is your guilty pleasure?
My guilty pleasure right now is soda. Lame I know, but I drink a lot of it when I know it's bad for me. I feel bad after drinking more that five cans a day, but I really can't help myself.
5. Do you live in a house that is deep cleaned or straightened?
Def straightened. I have a one year old not much deep cleaning going on over here.