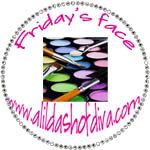 I'm linking up with Lil Dash of Diva for Friday Face. Just snap a picture of the your and the make-up you used to make it all happen.
This was my look as I headed to my 1st day of work.
This is the make-up I used. I use this same make-up every day just about.
black NYC eye liner
cover girl true match concealer
Some random eye shadow I got somewhere
MARK brushes
NYC mascara