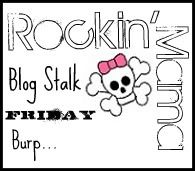 Yup It's here again.
I need more followers on twitter. I'm awesome and I need y'all to see my awesome tweets.
So follow me on twitter
xoNikkiDarlin
You can also join my fan page on Facebook
Nikki Darlin's fan page
Also like always follow me GFC so you can keep up with my fawking awesome blog!
The GFC is located on your right hand side!
Now go and link up with
Rockin_Mama
and join this awesome Friday Blog Stalk Hop!