I'm linking up with

Janette

,

Mamarazzi

,

Shawn

, & Impulsive Addict for We Want To Know Wednesday.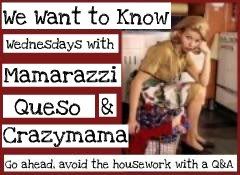 1.} What
must
you do before you go to bed at night?
Lately it has been read. I'm still in love with the Kindle app on my phone.
2.} What is one thing you
must
snack on at the theater?
pop corn! I love that stuff. But I also like corn dogs, and extra large drinks! Hmmm.. maybe that would be why I've gained so much weight.
3.} Before going on vacation what
must
you do?
Plan everything. I'm a huge planner. And I have to go over everything we have packed to make sure we have everything. I hate to forget stuff.
4.} What is one thing you
must
do every day?
Oh Lord. There's so much. But one thing I have to do is , oh this is hard, check facebook. I seem to have to know what everyone is doing.
5.} Is there something you do that
must
be done in a particular order?
I have to wash dishes is a particular order. I don't have a dish washer, Lets pray I get one in the new house, so I was them by which one goes in the dish drainer 1st. It goes spoons, forks, knifes, plates, other kinda flat dishes, pans, pots, bowls, then cups. Don't judge me for my OCD LOL.