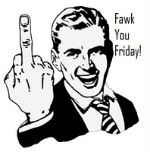 Fawk You you stupid out of date bagged vacuum. This is is nothing but a pain in my pretty little ass.
Back Story:
I got this vacuum as a hand-me-down from the mother in law. All we have is a small rug in the living room and a fully carpeted baby room. So I thought I wouldn't really need to worry about a vacuum. So wrong was I. We got our pug puppy and along with her came the fur, everywhere! This out of date vacuum isn't the best for picking up fur.
So just about everyday I have to do this :
Play operation on it. I have to take bottom apart and clean it with a rag. And take apart the hoses and stick a hanger into them and pull out all the dog hair. I then turn it upside down and shake out the dirt.
This is a small amount compared to what usually comes out of it.
And today I found that the dirt wasn't even going into the bag. The bag was completely clean.
So I say again, FAWK YOU STUPID OUTDATED NON-WORKING RIGHT VACUUM!!!
I do my job, why can't you just do yours?!
And to top it all off, the hubs won't buy me another one until Christmas.
FML!