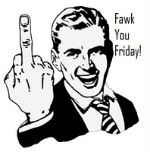 Well I start off by saying:
Fawk you girly crap that we must have every month.
Fawk you girly stuff that was kinda late this week and scaring the crap out of me. But thank you for coming anf letting me know I'm not preggos.
Fawk you fighting with my husband. I hate it but I know I caused it this time.
And along that line
Fawk you mouth that just won't stop going when it needs too.
Fawk you high cable bill!
Fawk all you bills!!!!
Fawk my hurting abs from me trying to do some ab yoga. Not good. I sucked. Couldn't even last the whole ten mins.
I guess I'm done for today. I'll bottle up some more for next week.